The authorization letters are written for official purposes so they must be written by following certain guidelines. So here we shall provide you with some tips regarding how to write an authorization letter with the help of some templates. These letters are very helpful to the people who are using them as the users can save their time and get their various purposes served by this letter. 

You can use these letters to represent yourself by some other person and that other person will be having the same authority as you might have. For example, if you are having land to sell, but due to some reasons you can't be present on the spot to sign on the transfer documents then you can use this authorization letter to let someone else sign on your behalf. Hence using this letter you can transfer your authority to any person on your behalf and the contract of sale would be finalized.
How to Write Authorization Letter Sample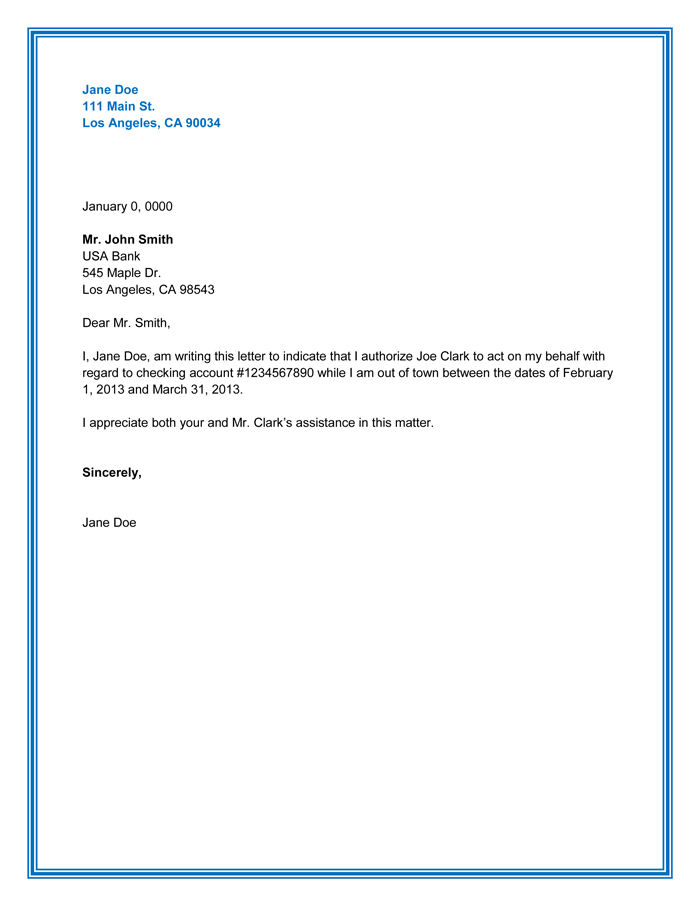 So, if you are wondering that how you can write this letter of authorisation to use in the particular scenario then we are going to help you in this regard. We will provide you the samples of the various kinds of authorisation letter by which you would be able to learn writing this authorization letter.
How to Write Authorization Letter to Bank on Behalf
Bank is the place where the person executes the various kinds of financial transactions such as depositing of the money or withdrawal of the money etc. It is actually the owner of the account, who has the power of executing all such transactions but this power can be transferred in the favour of some other person. An authorization letter is the letter which is used to delegate responsibility to another person who can conduct certain transactions in the name of that person.


Here we have provided you with some examples of the bank authorization letters which will help you to understand writing this letter. Take a closer and the complete view of this letter and then start writing your own letter.
How to Write Authorization Letter to Bank
If you want to grant or authorise some other person on your behalf to make the certain or specific transactions on your own Bank account then you can address the authorization letter to the Banker in this regard. In this letter you will be addressing the bank with the proper and the clear words that you are willing to authorise that particular person to execute the specific transaction on your Bank account. 


If you are still not confident in writing this letter on your own then we urge you to have a look of the below-attached template sample. It will help you in creating an idea about this letter and write it. Once the letter is addressed to the Bank then the concerned person is authorised from the immediate effects.