Authorization letter has been around us as a great source of help, as using these letters we can execute the several kinds of the tasks even without our presence. For instance there may be the important meeting where you have to be present to finalise some decisions but you can't be there due to some reasons.

In such scenario the authorization letter is what will rescue you as using this letter you can authorise the other person, who can be present at the meeting on your behalf and take the important decisions.This is why authorization letters can be used at almost all the spheres of life in the full proof legal manner.Here in this article we are going to discuss some such authorization letters with their examples and the templates.
Authorization Letter for Personal Representative Example
Well, if you are going to be so much busy in any work that you won't be having the time even to execute your personal tasks, then you can authorise the other person on your behalf. The other person would be in authority to executing your all personal tasks as has been authorised by you.

For example if you have to collect the Visa or Passport from the embassy then you can authorise the other person to represent yourself to collect these documents. 

The authorization must be in the clear words addressing the authority that you have authorised the person XYZ on your behalf.

The authorised person would be entitled to pick up or collect the documents on your behalf.

End the authorization letter with your genuine signature and then the authorization would take place.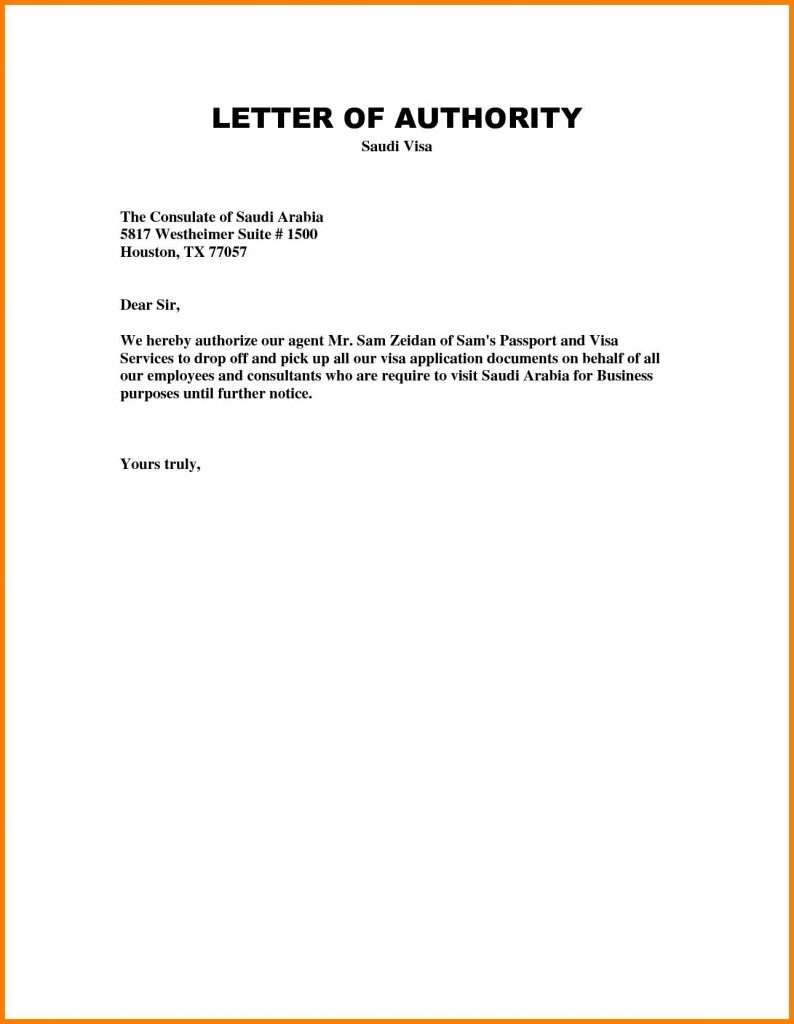 Example of Authorization Letter for NSO
Authorization letter can also be used to authorise the other person who can make the several transactions on the account of some other person. It is useful to be used when you are not present at your Bank location, and you want the withdrawal of certain amount from your account on the behalf of the other person.
Once the authorization is completed by the account holder then the other person can make the transactions from the bank on the account of other person.

Example of Authorization Letter for Claiming
Claim may be something which can be made in the context of any property or rights, and it is made only by the concerned person. The good news is that you can authorise the other person even to make the claim on your behalf.
For example if there is any disputed property on which the court case is being conducted and you have made your claim in that property. In this case if you can't be present at the court case to make your claim, then you may authroise the other person who can make the claim on your behalf. 

The sample template of this claim authorization letter can be checked below in this section of the article.